Open doors of opportunity by teaching English to speakers of other languages.
"
I served on the mission field teaching English in Indonesia for four years before coming to Cook. When I was teaching, I felt like I could do a better job serving my students, which made me want to seek further training.
Jeremy Beal, M.A. in TESOL ('13)
Why Should You Pursue TESOL?
English has become the most widely used language in the world today, particularly in the areas of science, commerce and education. Tens of thousands of students in developing countries are required to learn English in school. Thousands more study English in order to pursue careers or educational programs demanding English language skills. Refugees and immigrants to the United States desire English to survive and to establish themselves in their new homeland. There is thus a considerable demand for qualified teachers of English both here and abroad.
Why Choose TESOL at Biola?
To help meet the need for trained Christian teachers of English as a Second Language (ESL) or English as a Foreign Language (EFL), the Department of TESOL and Applied Linguistics offers two regular programs in TESOL on campus: a Graduate Certificate in TESOL and an M.A. in TESOL. The programs are academically rigorous, yet focus on the practical aspects of teaching in a variety of settings. The department also seeks to serve teachers desiring to continue their professional advancement or upgrade their qualifications, and non-degree students interested in gaining basic teaching or tutoring skills, by offering a variety of separate courses, from introductory to advanced.
The M.A. in TESOL encompasses the goal of the certificate program plus the additional goal of broader academic training. Teachers are equipped for work in and beyond the classroom in administration, training, course design, etc.
The focus of the TESOL programs is post secondary and adult education. Those interested in K-12 ESL in U.S. schools should consult with the School of Education.
Program Highlights
Receive biblically centered training in TESOL from top-notch faculty who are active practitioners and researchers in both the TESOL and Christian English Language Teaching fields.

Be challenged, mentored, and nurtured by faculty and peers with extensive experience in cross-cultural service around the world.

Develop expertise in language teaching marked with professional preparation, contextual sensitivity, cultural appropriateness, and ethical service in the name of Jesus.

Practice your TESOL skills in many venues in Southern California and Los Angeles, one of the most linguistically diverse cities in the world.

Benefit from the resources of Biola University — an evangelical university with a 109-year history of biblically centered education, including the Talbot School of Theology.
More Questions:
Is this the right degree for me?

If you are looking to teach English as a second or foreign language, Biola provides several ways for you to be trained in TESOL in addition to the master's degree. The level of teaching and work you want to pursue while receiving training in this field will determine which program is right for you. Here's a summary to help you decide which program fits best:

M.A. in TESOL (Residential or Online)


You desire teaching ESL/EFL in the U.S. to college students, immigrants or adult refugees, or internationally with a broad age group. You want to be prepared to teach any skill at any level, and also design courses, materials and tests; train teachers; and administer programs.

M.A. in Intercultural Studies (Residential or Online) + Certificate in TESOL


You want a strong foundation in cultural and missiological principles while being trained to teach ESL/EFL.

M.A. in Teaching Personalized or M.A. in Education Personalized (TESOL concentration)


You want to work in a K–12 school as an ESL/EFL teacher. The School of Education's programs allow you to take 3–5 TESOL classes as part of your degree.

 

What kind of job opportunities can I pursue with a master's in TESOL?  

A Master of Arts in TESOL will open doors for you to teach English to speakers of others languages, both in the United States or abroad. Some of our most recent alumni are serving as coordinators, directors and leaders in four-year colleges and universities, mission agencies in Europe and Asia, and others are teaching in the Middle East and Asia. Job titles have included ESL teacher or instructor, ESL program director or academic adviser.

You'll likely find part- and full-time positions, as well as volunteer opportunities. And if you're willing to relocate, there are greater opportunities to find full-time paid positions. The faculty at Cook, and colleagues at Biola, are connected to an extensive network of mission agencies, NGOs, schools of all types and professional associations. Our alumni are also happy to offer advice and connect with Cook graduates.

 

What does a certificate in TESOL qualify me to do?

Depending on your employer's requirements, a certificate in TESOL can qualify you to work as an English language teacher in a part-time or entry-level position. As you consider pursuing a certificate in TESOL, ask yourself these questions:

Will I need a certificate for a job or visa I'm applying for? If so, what kind of certificate do I need to show to my potential employer?  
Am I looking for more training to be more confident and qualified in my teaching?

The job you're looking at will determine whether the certificate you have is sufficient. You will likely need a certificate if you're seeking to work in an entry-level or part-time position at a language institute in the United States or other institutions worldwide. If you're seeking a higher-level position or an ESL position at a university, it may require a master's degree. The level of certification you need depends on the job you're applying for.

Biola offers three kinds of certificates in TESOL:

Graduate Certificate in TESOL (21 credits): You can acquire this certificate after completing the first year of the M.A. in TESOL, in conjunction with another master's program, or on its own as a stand-alone program.
Undergraduate Certificate in TESOL (18 credits): You can acquire this certificate as part of your undergraduate degree at Biola.
Departmental Entry-Level Certificates: Students who complete one or more classes but do not fulfill the credits required for the above certificates can receive a certificate that specifies the number of contact hours. One 3-credit class is 45 contact hours, or results in 180 hours total (assuming three hours of homework per in-class contact hour).
The focus of the TESOL programs is primarily post secondary and adult education. Those interested in K–12 ESL should ask a TESOL faculty member for advice. In the United States, K–12 teaching jobs require a credential, not a certificate. In other parts of the world, the job requirement may be different.
Take a "Test Drive" TESOL Class!
Interested in TESOL but not yet ready to commit to the whole MA TESOL? You can "test drive" the program and take the Introduction to TESOL class when you register as a special student! Contact Graduate Admissions for details.
Essentials of TESOL (Noncredit)
Biola also offers a noncredit Essentials of TESOL class through Biola LEARN. Self-paced, fully online and low-cost, this course will prepare you to teach English in informal settings while giving you a taste of what you will learn in the M.A. in TESOL program.
Tuition & Financial Aid
Find information about tuition and financial aid opportunities.
Faculty Spotlight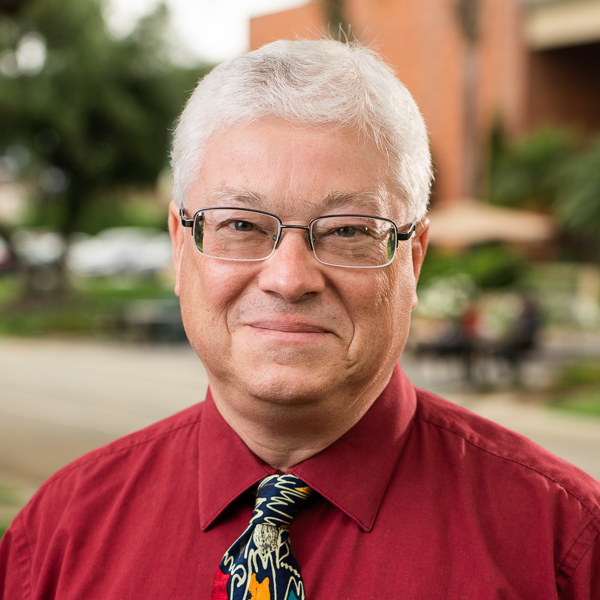 Professor of Applied Linguistics and TESOL